PRECISION METALS SERVICES
Precision Metal Services, (also known as PMS) was bought in 2004 by William S. Nadler Jr., Inc. in the Philippe Industrial Park in Gonzales, LA.  This location is in the heart of the industrial corridor along the Mississippi River between Baton Rouge and New Orleans, LA.  PMS has 3,200 square feet of shop space that sits on one acre of land.
Precision Metal Services is a fully-equipped machine shop which services all William S. Nadler Jr., Inc divisions as well the petrochemical, heavy equipment, and sugar industries.  PMS is committed to producing the highest quality machined parts at a fair and competitive price.
PMS is a Job Shop that employs machinists who are qualified, dependable, and safety oriented. We feel that our staff is competent that has the knowledge and experience to get the job done right. They are trained to meet the many needs of all the diverse industries that come through the shop.  Whether it is small projects that may requires CNC capabilities to larger projects that require more specialized machining to meet our customers timely completion dates.
We have experience in machining a variety of materials: such as stainless, castings, and plastics. We can give a complete list of our machine shops equipment with their capabilities. With the added divisions under William S. Nadler Jr., Inc. we are able to meet fabrication and field services that other machine shops cannot provide. A complete list of our machine shops capabilities and equipment are listed below.
Our specialties include the repair and manufacture parts of the following equipment: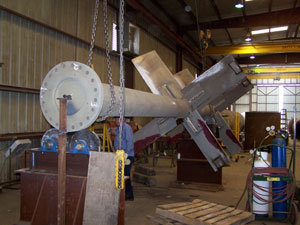 PART MANUFACTURING AND FABRICATION:
Shafts (Pump, Gear Box, etc.)
Seal sleeves
Wear Rings
Case rings
Bearing Housing
Bushings
Couplings (Bored and Keyed)
MECHANICAL EQUIPMENT REPAIR:
Pump • Gear Boxes • Compressors • Electric Motors • Blowers

Bearing and Seal Replacement
Bore and sleeve housing bearing fits
Re-machine Split-lines on Housings
Repair or Manufacture new shafts
Apply Ceramic Coating for ware preventing and drag performance
PUMPS (Specifics)
Repairing rotating equipment such as: pumps, blowers, turbines, centrifuges, mixers, impellers, and gearboxes.
Rebuilding pumps of type: in-line, vacuum, multistage, split case, sump, boiler feed and river water
Rebuilding and repairing gearboxes as well as replacing or re-cutting gears.
Various additional work items include pump and propeller shafts; chip and rotary feeders; pump bowls, clarifier gearboxes and extruder screws.
SHOP EQUIPMENT
Lathes
Lehmann 28.5" x 240"
Sharp 18" x 60"
Victor 16" x 60"
Milling Machines
Carlton CNC Horizontal Mill 5" Spindle, NMTB 50 18'-0" x 11'-0'' Travel
WOTAN Horizontal Mill, 3 48" x 54" Table
Lagun Horizontal Mill, NMTB 50 Spindle, 35″ x 9″ Table
Bridgeport Knee Mill – Series 1 with digital readout
Bridgeport Knee Mill
Boring Mill:
Berthiez 55" Vertical Turret Lathe with a swing of 67"
Radial Drill:
6 HP Cegieski Radial Drill Press 18″ x 76 ½"' Arm
Keyseater:
Mitts-Merrill #3 with 15" Stroke x 1 ½" cap.
Hydraulic Press:
H&W 18-16 Hydraulic Press
Saw Cutting:
W.F. Wells 16" x 19" Bandsaw
Pipe Threader/Dies Sharpener:
Ridgid 535 – 2" Max. Capacity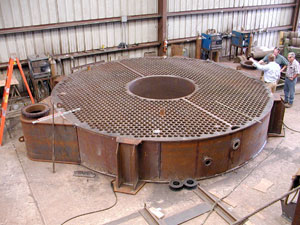 Weldering
Is handled through our fabrication division DB Doran Copper & Iron Works
Blasters:
Empire 4' x 2' cabinet
Forklifts:
Yale – 4400 pounds
Air Compressors:
Ingersoll Rand – 2545