DB DORAN
D.B. Doran Copper & Iron Works was established in the late 1800's primarily doing copper work for the sugar industry.  During the late 1940's company officials added iron and steel fabrication to their line and became very active in providing steel fabrication for the petro-chemical industry in the Donaldsonville area.
In 1984 William S. Nadler, Jr., Inc., acquired the Doran shop, but continues to do business as D.B Doran Copper & Iron Works.
In 1995 we moved the location of our company from Donaldsonville, La. to Belle Rose, La.  This move has enabled us to better meet our customer's needs with more than 19,000 square feet of indoor fabrication space located on 7.5 acres of land.
Our business provides custom fabrication for petro-chemical, off-shore and sugar industries.  We specialize in all grades of carbon and stainless steel.  Our capacity includes fabrication of:
ASME CODE VESSELS – API TANKS –  DUCTWORK – STACKS
FABRICATION SHOP EQUIPMENT & CAPABILITIES
Fabrication Shop
50' -0"x 390'-0" with 24 ft under hook clearance (19,500 square feet)
Supported by:
(6) 10 Ton Cranes
(2) Scissor Lifts
(3) 120 GAL Air Compressor
4000 LB. Clark Forklift
Yard Area: 7 acres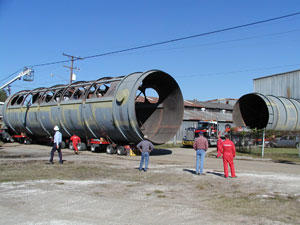 Shop Annex
Shop Cutting Operation (3,210 square feet)
Supported by a 7.5 Ton Crane
60 ton Iron Worker
20" Abrasives Blade Chop Saw
Automatic Cutting Machine
Plasma and Oxy Fuel Torch
cuts 8' x 20' size plate
Maximum thickness – 5" thick plate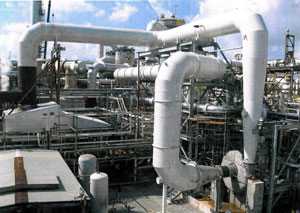 Mechanical Press Brake
Capable of braking 1" thick plate
Maximim width – 10' wide plate
Rolls – 8ft, 6ft, and 4ft
Maximum thickness – 1" thick plate
Maximum width – 8' wide plate
Sub Arc Welding Machines
8' Sub Arc Boom for tanks
6' Sub Arc Boom on tracks for plates
Welds 3/8" thk. plate on up
Can handle welding 14' dia. vessels
Yard Equipment
15 Ton Galion RT Crane
15 Ton Lorrain RT Crane
5 Ton Terex Forklift (Extended Reach)
3 Ton Sky Trak Forklift (Extended Reach)
JLG 60ft Arial Lift (High Reach)
Blasting and Painting
Can handle on-site customer specified coatings